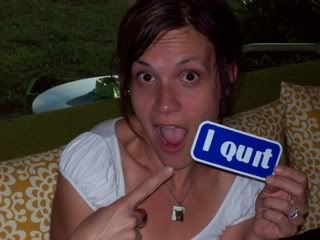 It's true. I went into work on Thursday of last week and quit my job. 3 weeks notice. Done. Check.
No worries, however, I have landed one heck of a new job! I'll be transitioning into the world of commercial real estate and I couldn't be happier about it! Fancy new office, nice guys to work with, direct deposit, the whole shebang!
It's still incredibly strange that I won't be working at the record store anymore - I mean, I've worked there for twelve years... my entire 'adult' life has been spent there... many wonderful things have occurred whilst I've been employed at Waterloo - I met and married my husband... we ended up on Trading Spaces... during SXSW even... I learned that I can drive a golf cart like a pro... I figured out how to make the impossible possible over and over again...I've made so many wonderful friends - most of whom I consider more than friends at this point - they're part of my family now.
Even though part of me will miss working at The 'Loo, I know I need to move along, spread my wings, and try something new. I think it will be good for Waterloo too - they need a fresh face in the 'marketing department' with fresh ideas and new ways of doing things. I'm really looking forward to seeing how a new person in my position there will change and grow the store in ways I never thought possible.
So, so long Waterloo Records, may you continue to try and steer the ship as far away from the iceberg as possible... and don't worry... I'll still have my husband buy me sunglasses with his employee discount.