Wow! It's been a terribly long time since I've posted anything. Our computer decided to blow up on us - literally - there was smoke and everything - and I just now hooked the camera up to our loaner computer (Thanks again, Greg).
So much going on right now - I was interviewed for the Austin American Statesman last week - they have a little column called "Makin' It" - all about crafty people in the Austin area, and they found me! For those of you that live in the ATX, it will be running in the Thursday Statesman - Life and Style section.
In other news, we're getting ready to go up to Boston (first time for me) to meet the Corcoran clan... all of 'em... should be crazy/ exciting/ etc.
Oh, and this is Dolores...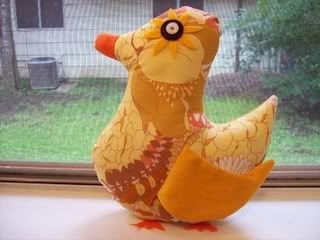 She's a special order for a very dear repeat customer - I sure hope you guys like her!